Schuricht family in Danzig (Gdansk)
Thanks to the information given by Dr. Roch Andrzejewski, Mr. Jerzy Marian Michalak and Mr. Benjamin Vogel.
You can refer to Wikipedia for Danzig (Gdansk).
---
In 1880, Carl Adolph Schuricht was born into a family of organ builder in Danzig.
In a map of Danzig (1922) below, you will find a street named "Poggenpfuhl" (the name is changed later to "Zabi Kruk"). The address of the house of Schuricht family was reported to be Poggenpfuhl 3 and it is located in the map with a red point.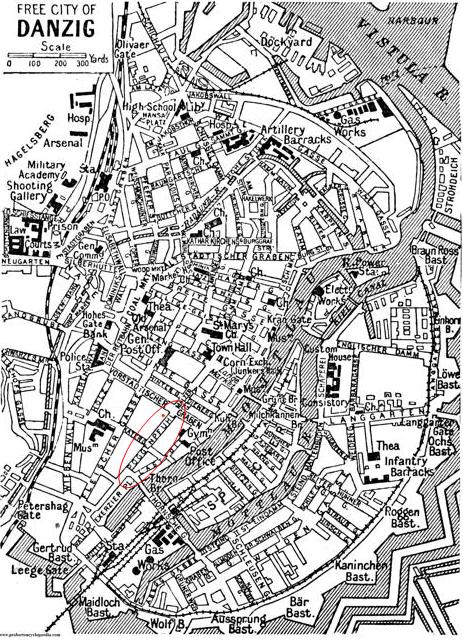 (Click on the figure for more detail.)
In this house, Carl Schuricht was born at 2:30 pm on 3 July, 1880.
He was received by midwife Louise Kaminski ur. Marth who was living nearby, Vorstädtischer Graben (Podwale Przedmiejskie) 52.
On 10 July, she informed his birth to the Civil Registration Office.
The birth certification is in the collection of the National Archive in Gdansk (sygn. 1609/117, nr 2166).
The name of Schuricht family is mentioned in an article "East Prussia" written by Jan Janca in a book entitled "The Organ: an encyclopedia" edited by Douglas E. Bush (Routledge 2006) at p.158.
Nineteenth-century Danzig workshops include the Schuricht family and Julius Witt, who built one of the last tracker action organs for the Protestant church in Schönberg, near Karthaus (Szymbark/Kartuzy; 1887; survives in part).
Some of the works by Schuricht family can be found in the webpage of Organs of Gdansk.
For example,
St. Mary's Basilica: 1869, Carl Schuricht
The next organ maintenance work was done in 1869 by Carl Schuricht, who carried out an overhaul of the great organ in the main nave and changed Flageolett 1' in the Pedal to a 2' stop.
Oliwa Cathedral: 1874, Carl Schuricht
In 1874 Carl Schuricht performed a restoration of the small choir organ. No further details are recorded.
"Carl Schuricht" above are, of course, the conductor's father Carl Conrad Schuricht who died in 1880.
---
GO BACK TO the Chronology of Carl Schuricht.