The Dresden Philharmonic Orchestra
---
With its approximately 60 concerts in the festival hall of the Dresden Kulturpalast, the Dresden Philharmonic essentially characterizes the cultural life of the city. The concerts of the orchestra, which emerged the central attraction for thousands of Dresdners and for the guests of the metropolis on the Elbe, so called Florence on the Elbe.
Guest conductors and soloists play together with the orchestra in its home town. For their part, the philharmonic orchestra is sought-after on the concert stages world-wide. Tours have so far taken the members of the Philharmonic Japan, Israel, South America and the USA.
The Dresden Philharmonic traces its formation back to the formal opening of the first concert hall on Novemver 29th 1870 in Dresden. This marked a new stage, a change away from the aristocracy to the performing of concerts for general public. From 1885, the then "Gewerbehausorchester" gave philharmonic concerts in Dresden, which earned them the title "Dresden Philharmonic Orchestra" in 1915.
In the past, Brahms, Tschaikowski, Dvorak and Strauss, amongst others, have conducted their works with the orchestra. Distinguished persons such as Hans von Buelow, Anton Rubinstein, Bruno Walter, Fritz Busch, Arthur Nikisch, Hermann Scherchen, Erich Kleiber, Willem Mengelberg have conducted the orchestra. Previous Music Directors have included, amongst others, Paul van Kempen, Carl Schuricht, as well as Heinz Bongartz, Horst Foerster, Kurt Masur, Guenther Herbig and Herbert Kegel, and Joerg-Peter Weigle, with whom - just as with Michel Plasson - Music Director since September 1994 - numerous records and CD's have been made.
After 1945, conductors such as Otto Klemperer, Karl Ancerl, Vaclav Neumann, Seiji Ozawa, Klaus Tennstedt ... gave guest performances with the Dresden Philharmonic, as well as soloists such as Emil Gilels, Wilhelm Kempff, Elly Ney, Gidon Kremer, Ruggiero Ricci, Henryk Szeryng, Pierre Fournier, Mstislaw Rostropowitsch, Aurèle Nicolet, Maurice André, Bruno Leonardo Gelber, Rudolf Buchbinder, Frank Peter Zimmermann, Heinrich Schiff, Mischa Maisky, Christian Zacharias ...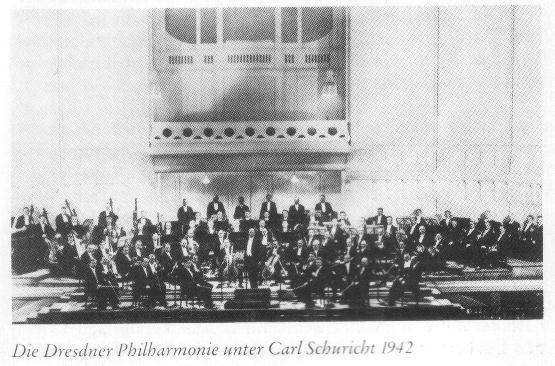 ---
GO BACK TO Carl Schuricht and orchestras
GO BACK TO the Chronology of Carl Schuricht