About Webmaster
Last update: 15 March, 2016
---
Hi!
My name is Tohru Kobayashi.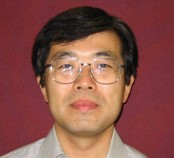 I was born in Tokyo on 22 September, 1959.
I got a doctor's degree on science from the University of Tokyo in 1988.
As a member of RIKEN Center for Advanced Photonics, I am working for the development of laser technology to isolate radioactive isotopes from the nuclear wastes.


I am now teaching basic physical chemistry course at the department of agriculture of Tokyo University of Agriculture and Technology in Fuchu, Tokyo.

I am a member of the Chemical Society of Japan.

My e-mail address is "tohru_kobayashi**yahoo.co.jp" (Please replace ** to @).

---
GO BACK TO HENKIKAN